Rummy is a favorite among all gaming geeks. Its fun element, skillful approach, tough competition, and cash bonuses are some features that attract new players. Once a player has developed the right skills, it is difficult to refrain from playing online rummy. Most online games only offer a single variant, but in online rummy, one can choose between 3 different variations i.e., Pool Rummy, Deals Rummy, and Points Rummy. Other ways to play the rummy card game include playing practice games and cash games. Let's find out in detail how to play different types of rummy online.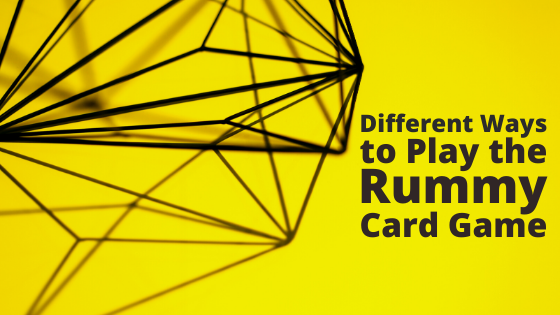 Points Rummy
It is the most popular version of online rummy and is popularly known as 80 points rummy. A 2-player game usually requires 2-3 minutes to conclude. This makes rummy the quickest game that one can even play during a 5-minute break at work. Points Rummy is played between 2-6 players, and turns are selected by a shuffle of cards. Players are required to make valid sets/sequences adhering to the predefined rules. Upon successfully making valid melds, a player has to click on the declare button. A valid declare before all other opponents is required for a win. Overall, the goal should be to keep one's points at a minimum. In a 2-player game, the winner is the person who makes a valid declare first. If one makes a wrong declare, he/she automatically loses all 80 points and the opponent is declared a winner of the game. On a 6-player table, the one who makes the first valid declare is considered as the winner.
Pool Rummy
Pool Rummy is a multi-deal rummy game and has 2 variants, namely 101 pool and 201 pool. The objective is to keep your points to the minimum and make sure your opponent/s reach the pool amount first. It can either be played with a single deck, or by using two decks. The player who is left at the end with less than 101/201 points (depending on the game type chosen), is declared as the winner. The game goes on till only one player is left at the end. Just like points rummy, one has to make valid sets/sequences and declare before all other opponents. One can also exercise the drop option if they feel their cards are not very good. Players also have the re-buy option in Pool Rummy. Once a player is eliminated because they have crossed the maximum pool limit, they can rebuy their way into the current game provided the highest points of players are less than 79 in a 101 pool game, and 174 in 201 pool game.
Deals Rummy
In Deals rummy, players are allotted chips, and one game consists of 2-3 deals. Another reason why the game is different from the above two variants is that in Deals rummy, the tables must be full for a game to begin. The player with maximum chips at the end of predefined deals emerges as the ultimate winner. The biggest advantage here is that the winner in every deal gets the lost chips of all other players in that particular deal. This moves up the competitiveness of the game to a higher level. Each player is distributed either 160 or 240 chips depending on the number of deals. The drop option cannot be exercised on a 2-player table.
Cash-Rummy Games V/s Practice Games
The biggest advantage of playing rummy online is that you get the opportunity to win some extra cash simply by playing the game. But players who consider rummy merely as a source of entertainment can play the practice games. In the practice games, each player gets a certain number of chips with which they can enjoy playing online rummy. Each of the above variants is available both on the practice tables as well as the cash-rummy tables. Therefore, a player can choose to play either the cash or practice games and can easily switch between the two.
Conclusion
Rummy is a game played and loved for generations and has different variations depending on the region it is played in. That's what adds to its charm.When you play rummy using the right skills and applying appropriate strategies, it is a great source of winning some extra bucks. Regardless of the variant you are most comfortable with, you'll find a lot of competition with real players playing from all over the country. A responsible rummy site such as Rummy Passion not only provides an exhilarating experience to the players but also ensures their safety while online. Don't know how to play? You can learn the rules and strategies of the game by visiting India's most loved rummy site – Rummy Passion.
Happy Gaming!